Glocusent Multi-Purpose Clip-On Light User Manual
Words from The Product Designer
Hi dear friends,
This is Mason from Glocusent. I am always excited to connect with you through our original products and hope you all enjoy it.
After 3 years in the book light industry, we've been collecting your feedback and voices to design this multi-purpose clip-on reading light. Many of you are avid
readers, artists, architects, or handymen who need a decent lamp to get better concentration or to reduce eye strain. We believe this clamp light will be your perfect lighting aid in your study room or workshop. Here are the considerate designs that will upgrade your experience:
Stepless brightness levels and multi-color temperatures allow you to customize your favorite settings to relax your eyes and boost your effectiveness;
1800K color temperature is 99.9% blue light filtered for best eye care;
30-min auto-off timer makes a good reminder for you to rest if you use Pomodoro Technique to work;
78-inch cord makes it extra convenient as you can move it around with you;
It comes with a remote controller for better convenience;
A stable & sturdy clamp allows you to attach the light to any thick surface.
This elegant & small book light is a subtle add-on to your room. It brings you not only excellent lighting but also strong practicality. We look forward to seeing your updates about your product reviews and don't forget to tag us on social media to show your enjoyable reading time with our book light.
Glocusent is always dedicated to bringing you the finest book lights, and we'd like to hear your voice and suggestion so then we can improve our products and
services. Once your advice has been taken into designing our next products, we will put your name on our contributor list in the product manual.
Thank you for your support,
Mason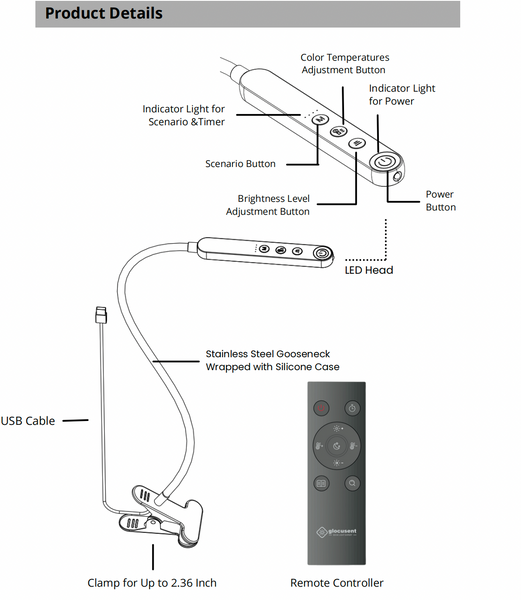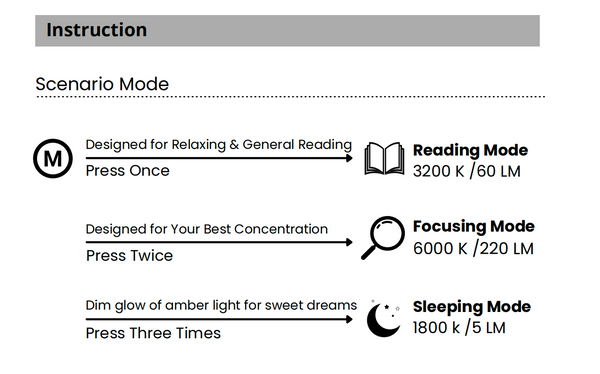 Precautions
Use a 5V/2A output wall plug to make sure the clamp light is working at its full capacity.
The power indicator light will turn green when the clamp light is connected to power.
The indicator light will turn green when the mode function or timing function of the light is turned on.
Please avoid placing this light in an extreme temperature environment (either too hot or too cold).
Disposal: When you are ready to dispose of the product after wearing it out, please make sure to follow the instructions of your local government for environmental and safety purposes.
Product Specifications
Mode

A19

Brightness

5LM - 220LM

Color Temperature

1800K, 2500K, 3200K, 4200K, 6000K

LED Beads

38

Dimensions

11.4*1.1*0.7 IN

28.8*2.8*1.74 CM

Weight

9.7 OZ / 274 G

Certificates

FCC, PSE, CE, ROHS, CTICK

Input

5V/2A
Include 
Glocusent Multi-Purpose Clip-on Light (78-inch cord) x1
 Remote Control x1
USB AC Adapter (2-prong 5V/2A) x1
User Manual x1
Bookmark x1
About Glocusent
Ever since we saw our first sunrise illuminate the beautiful Colorado Springs, we've become a lighting production company that believes that light is a critical element to capturing the magic in moments. No progress was ever made in the dark, and we're here to deliver that light to ensure that our users are always progressing. From neck lights to portable ring lights, every one of our products is
designed to provide light in a way that's simple and convenient. At Glocusent, we refer to three core principles; glory, focus, and moments.
Glory: We're about bringing light to your life, and we believe life is filled with glory, whether that's in your career or with your family. Let us shine a light on that glory.
Focus: Our team at Glocusent is focused on creating innovative lights and lamps that are convenient, smart, and tailored to its user. In the wise words of Roy T. Bennett, "Life is short; focus on what matters; you should change your priorities over time." With our lights, you can focus on what matters.
Moment: Moments are fleeting. Your lives are filled with beauty, romance, and happiness. Our innovative lights are there to help you capture the moments.
Glocusent Customer Support
Have questions, concerns, or feedback about Glocusent Multi-Purpose Clip-on Light? Email us at service@glocusent.com; our team will respond to your email in a swift time.
For an extended 3-year warranty, please simply head to our website and register your purchase:
www.glocusent.com/pages/warranty
You are also welcome to chat with the product designer directly at mason@glocusent.com.
Comments (0)