Glocusent Horizontal ET-Head Book Light User Manual
Words From The Product Designer
Hi, Bookworms,
This is Mason from Glocusent, and it is so lovely to connect with you through our original designed product. Some of you are old friends of Glocusent, and we sincerely appreciate your support and genuine feedback on our products.
This light can protect your eyes. It blocks 99.99% blue light and emits amber light, which is eye-caring with less eye strain. In amber mode, the color temperature of this book light is 1800K. And the distinguished horizontal light bar design makes the illumination evenly spread on the pages of your book—no more worries about your big and horizontal picture books.
Our light has 10 built-in advanced LED beads, and the CRI is 95 It means this clip-on light would present the original colors of the book with high fidelity. When reading comics or storybooks, this light will restore the actual color and provide you with a vivid reading world. Also, this light has three color temperatures and five brightness. Moreover, you can choose the way of stepless adjustable color
temperature and brightness. Freely select the appropriate levels according to your needs.
We genuinely hope that this clip-on reading light can bring you joy and fun when doing readings, knitting, and other daily activities. Thank you for being so supportive.
Sincerely,
Mason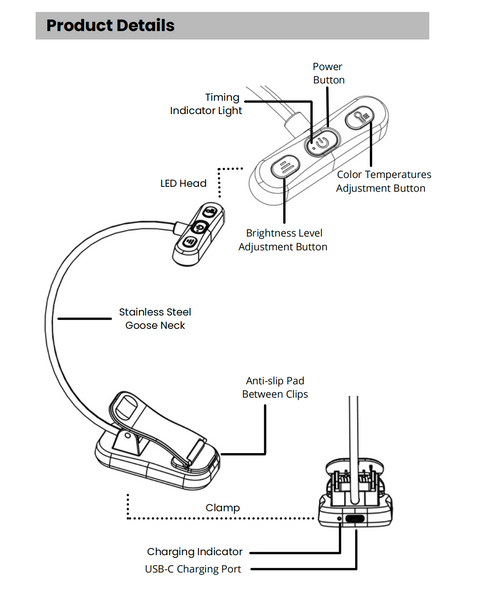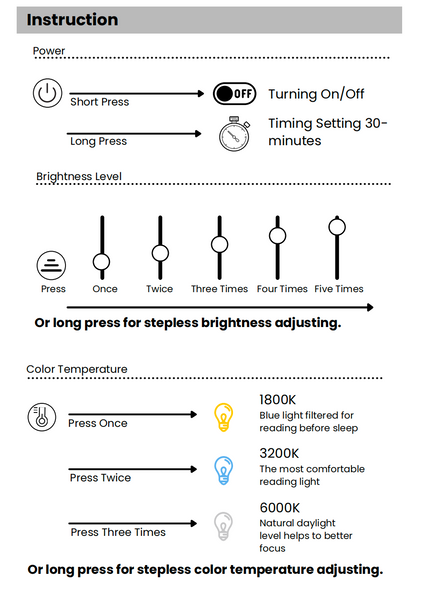 Note
Use provided USB-C charging cable, or any third-party certified USB-C charging cable to charge the Clip-on Reading Light.
Make sure to fully charge till the charging indicator light at the back turns green from red before first use.
The timing indicator light will turn green when the 30-min timing setting is on.
Please charge it at least once every 6 months to maintain the battery's lifespan.
Please avoid placing this light in an extreme temperature environment (either too hot or too cold).
Disposal: When you are ready to dispose of the product after wearing it out, please make sure to follow the instructions of your local government for environmental and safety purposes.
How to Charge
Simply plug the provided USB-C cable into the charging port on the top, and connect it to a power charger.
It takes about 1.5-2.0 hrs to fully charge.
Please fully charge the product before its first use.
Note: The charging indicating light will turn green when the reading light is fully charged, and the indicating light will turn red when it is on charging.
Product Specifications 
Mode

A18

Brightness

5LM - 25LM

Color Temperature

1800K, 3200K, 6000K

Battery

Lithium

Battery Capacity

650mAh

LED Beads

10

Dimensions

2.6*1.5*1.3 IN /

6.7*3.9*3.3 CM

Weight

1.4 OZ / 40 G

Certificates

FCC, CE, ROHS, CTICK,

PSE

Input

5V/1A
Include 
Glocusent Horizontal ET-Head Book Light x1
 USB-C Charging Cable x1
User Manual x1
Bookmark x1
About Glocusent
Ever since we saw our first sunrise illuminate the beautiful Colorado Springs, we've become a lighting production company that believes that light is a critical
element to capturing the magic in moments. No progress was ever made in the dark, and we're here to deliver that light to ensure that our users are always
progressing. From neck lights to portable ring lights, every one of our products is designed to provide light in a way that's simple and convenient. At Glocusent, we
refer to three core principles; glory, focus, and moments.
Glory: We're about bringing light to your life, and we believe life is filled with glory, whether that's in your career or with your family. Let us shine a light on that glory.
Focus: Our team at Glocusent is focused on creating innovative lights and lamps that are convenient, smart, and tailored to its user. In the wise words of Roy T.
Bennett, "Life is short; focus on what really matters; you should change your priorities over time." With our lights, you can focus on what matters.
Moment: Moments are fleeting. Your lives are filled with beauty, romance, and happiness. Our innovative lights are there to help you capture the moments.
Glocusent Customer Support
Have questions, concerns, or feedback about Glocusent LED Hammerhead Clip-on Reading Light? Email us at service@glocusent.com, and our team will respond to your email in a swift time.
For an extended 3-year warranty, please simply head to our website and register your purchase:
www.glocusent.com/pages/warranty
You are also welcome to chat with the product designer directly at mason@glocusent.com.
Comments (0)